The Iino Building takes its place as a new-generation office building that considers the environment,with its energy-saving performance and flexibility for future renewal.

The Iino Building employs natural ventilation systems, a whole-facade double-skin, Eco-Voids, and other features to harness natural wind and solar power, saving energy and creating comfortable work environments.

Flexible system design, an easy-to-maintain mechanical system, and ample space to allow for replacements and upgrades enhance the building's longevity.

Tenants in older buildings with high environmental loads must cooperate with building owners to meet environmental targets. In contrast, the Iino Building's advanced systems make it easy for tenants to meet these targets. (From April 1, 2010, tenants are legally required to cooperate with building owners on daily building management and operation to reduce CO2 emissions.)

Environmental measures targeting hardware and operational aspects bring this building to a level ready for approval as a "Top-level Office" (verification by a third-party agency is required).This new-generation office offers an advantage for tenants who must achieve mandatory CO2 reductions.

Even if the room temperature is set higher for "Cool Biz" business attire, low humidity ensures a comfortable environment.
Energy consumption for air conditioning is reduced by 10%.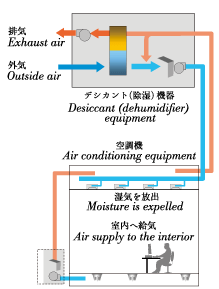 The double skin controls light and heat, saving energy as it ensures comfort. External thermal load is reduced by 37%.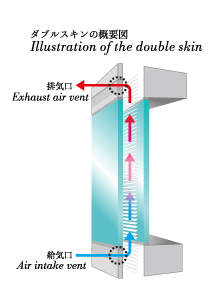 LED lighting, which is used throughout, saves energy by consuming less than conventional fluorescent lighting. Energy consumption is reduced by 46%, compared to conventional lighting.

Total energy is reduced bt 1.1%.

Around 40% of the energy consumption of of?ce air conditioning can be reduced by natural ventilation cooling.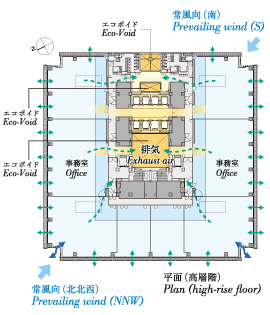 The planting plan makes the most of the site and considers the urban scenery.