Guide to IINO CONFERENCE CENTER
IINO CONFERENCE CENTER features ten venues of varying sizes on the same floor, including Room A, Room B, Room C, Room D, and Room E.
Room A and Room B feature specialized lighting baton system and art baton system, as well as the latest audiovisual equipment and a large screen, making them ideal venues for various performances and cutting-edge presentations.
The center features high-quality video and audio links between each room, allowing users to choose the venue most suitable for the scale of their event, from large lectures to small meetings, exhibitions, parties etc.
In addition, all of the rooms may be used as secondary venues for events held in IINO HALL.
IINO CONFERENCE CENTER is a high-grade and flexible facility featuring the latest equipment, as well as the option for integration with events in IINO HALL. Specialist Coodinators will propose plans optimized for each user's needs, and support the smooth administration and running of events.
Layout Plans
Room A
Boasting the largest floor area of any room in IINO CONFERENCE CENTER, Room A is also attractive due to its elevated ceiling. This expansive venue has its own dedicated foyer, which can be adapted to a range of uses such as a reception space or a place for guests to mingle during intermissions. The whole area can be transformed into a private venue, with exclusive use of the adjoining anterooms, restroom and smoking room.
Classroom style: 252 seats Theatre style: 288 seats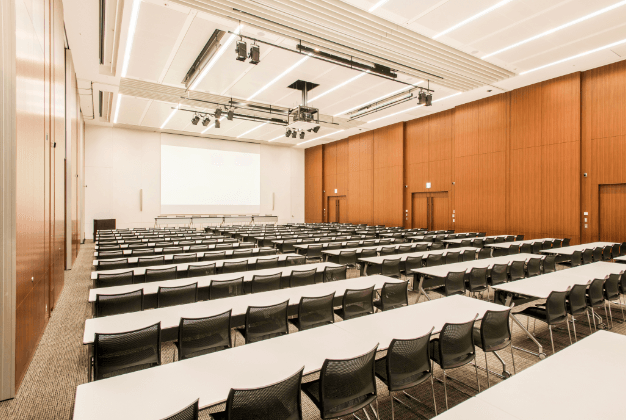 Room B
Able to be used as a secondary venue in addition to IINO HALL or Room A, providing peace of mind for events with a large number of guests. Featuring a high-performance laser projector, Room B vividly recreates the ambience of the main event space. It can also be divided into three spaces equivalent to the size of Room C.
Classroom style: 180 seats Theatre style: 238 seats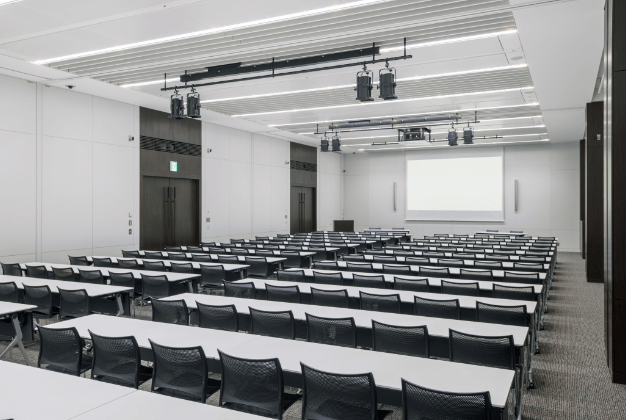 Room C
In addition to medium-sized meetings and seminars, Room C is also suitable for a range of events such as press conferences and social gatherings.
Positioned between Room A and Room B, it can also be utilized as a subspace for the main event.
Classroom style: 45 seats Theatre style: 63 seats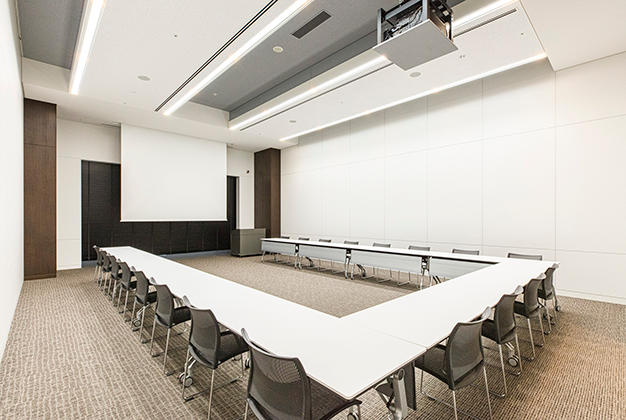 Room D
The design of Room D makes it easy to use for small discussions, as an anteroom for the main venue, office or press room, or as a seminar venue or testing center. It is also possible to divide Room D into two separate rooms.
Classroom style: 30 seats Theatre style: 42 seats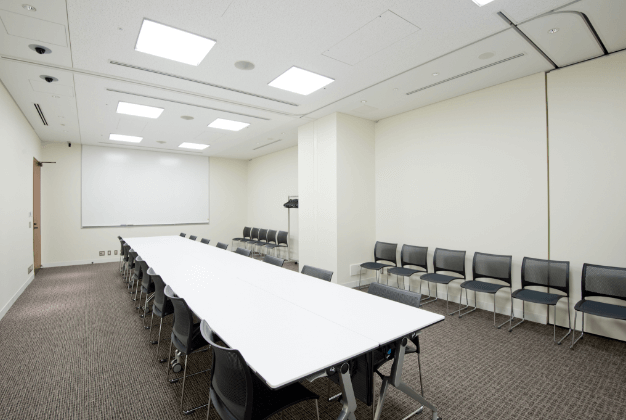 Room E
The rounded table and comfortable chairs add an air of luxury to this pleasant space. With its own private restroom, Room E is ideal as a meeting room or anteroom for VIPs.
Round desk style: 16 seats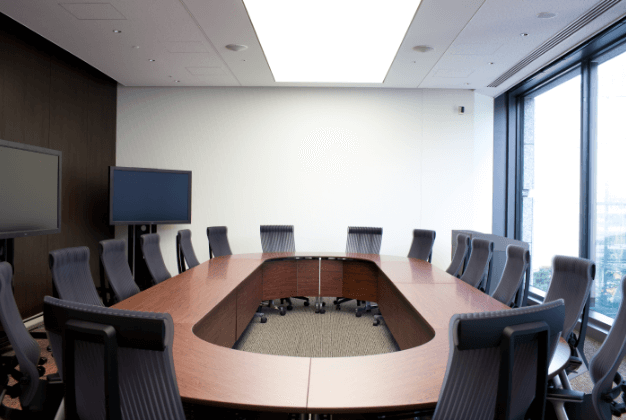 Facilities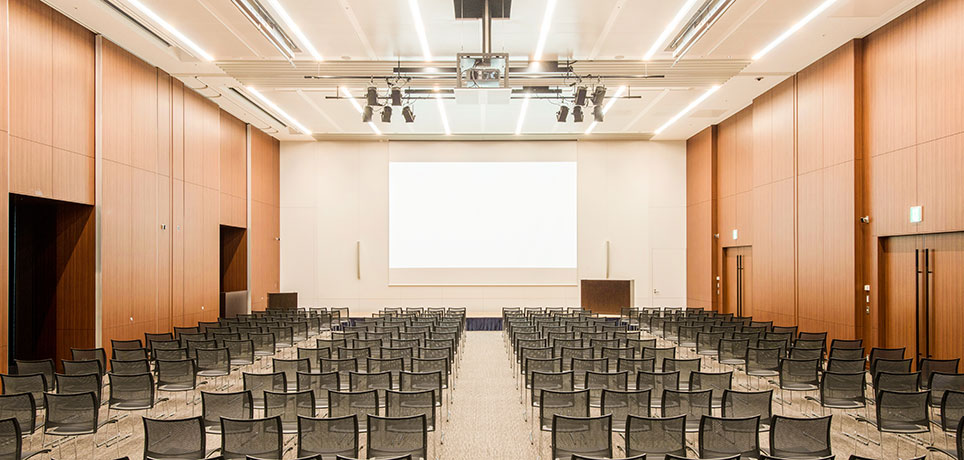 Room A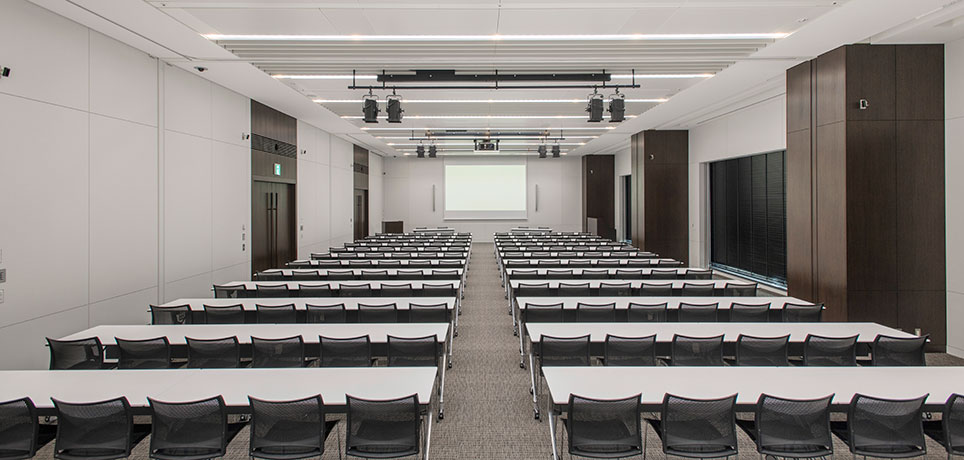 Room B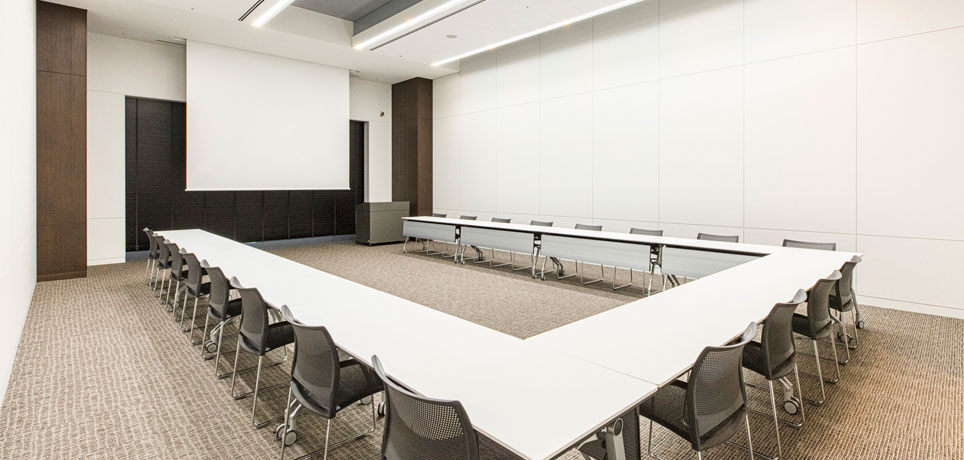 Room C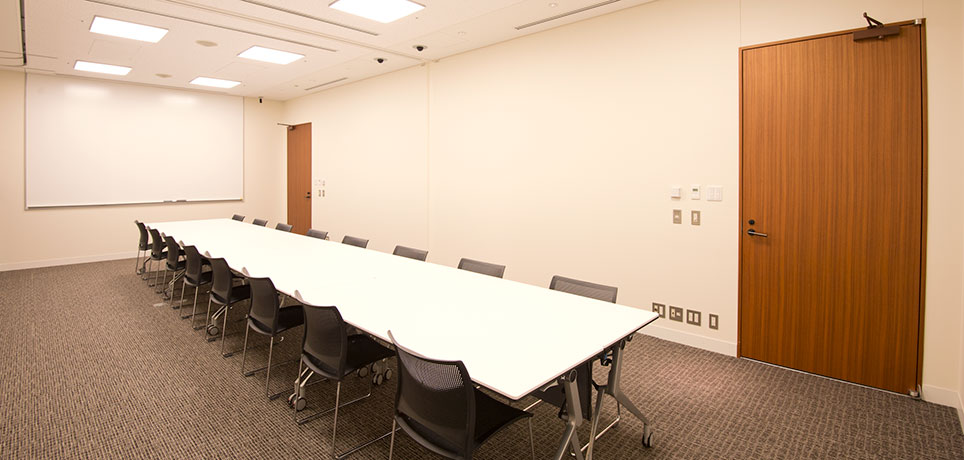 Room D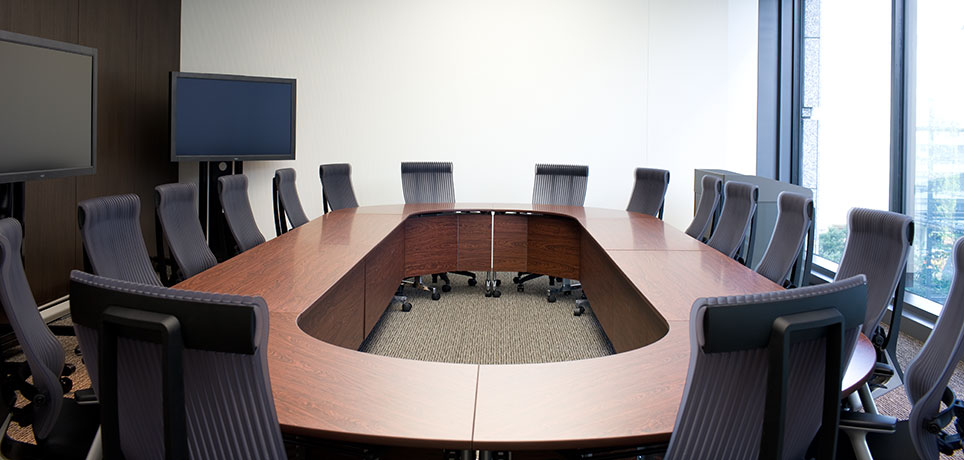 Room E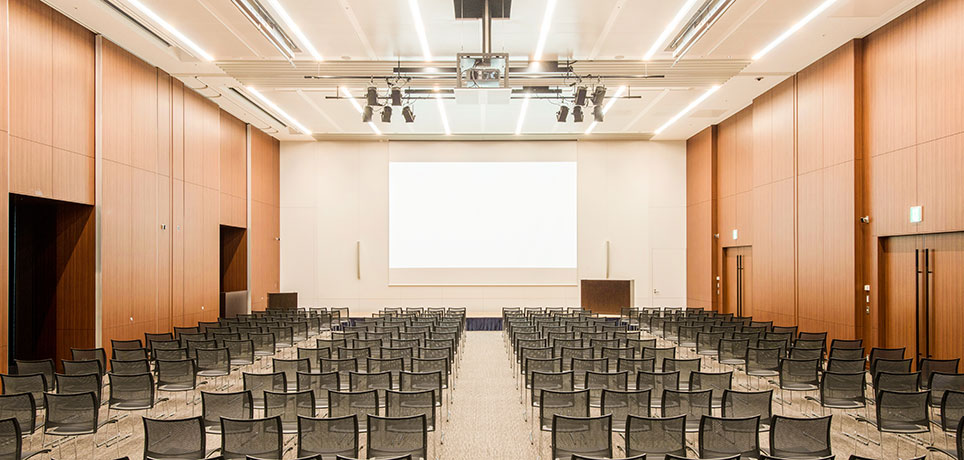 Room A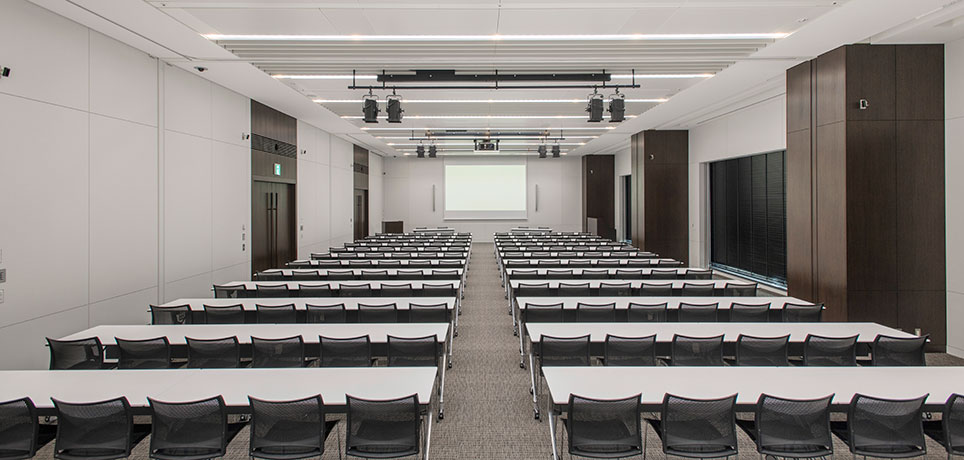 Room B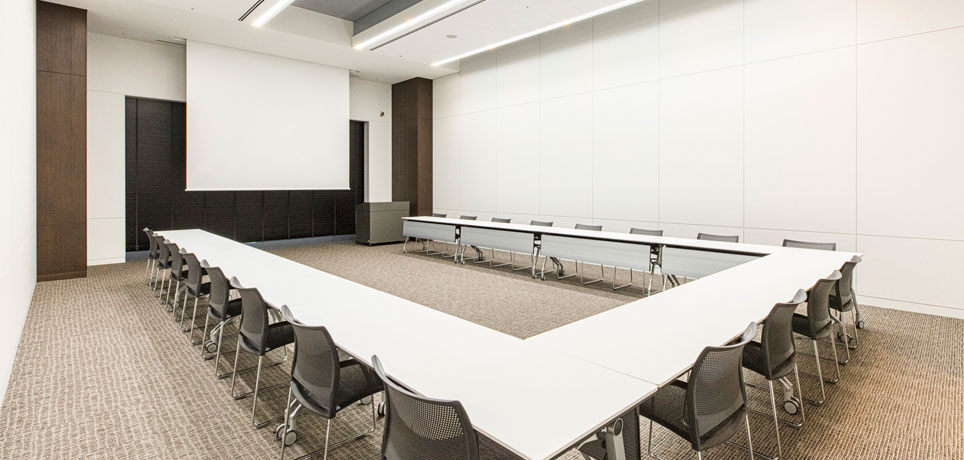 Room C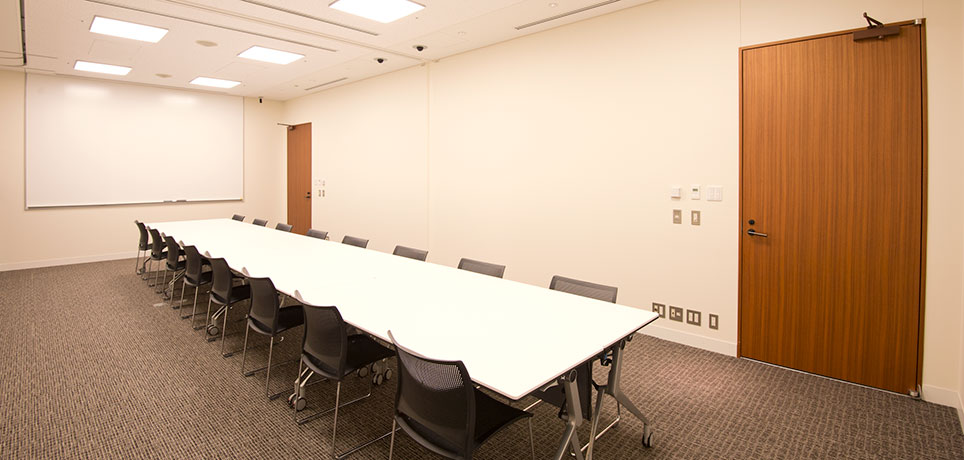 Room D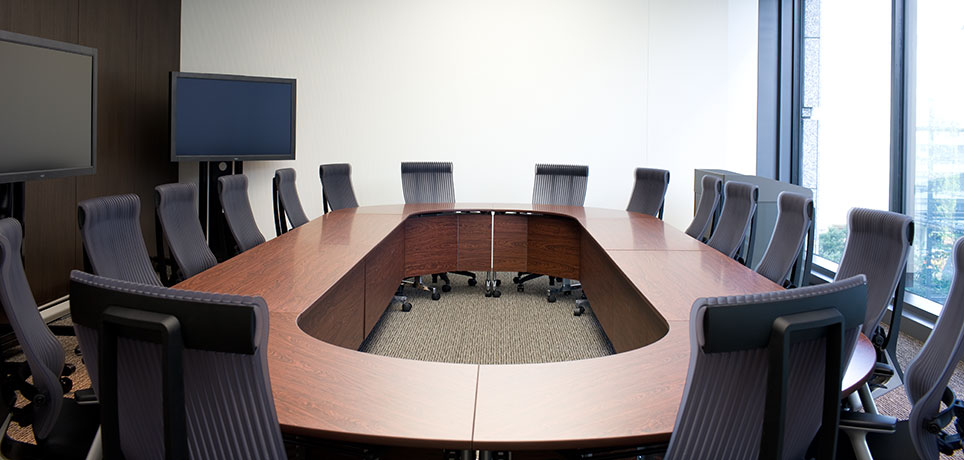 Room E